GO
GO
---
Motor Yacht GO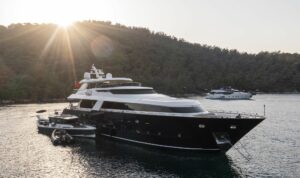 Go is a highly desirable Dragos Yachts-built 35m(115ft) crewed motor yacht, accommodating 10 guests in 5 cabins for memorable trips around the Turkish coastline.
Accommodation:
1 Master Suite Main Deck with Study,
2 Vip Suites
2 win Staterooms
Go is a very elegant yacht, combining comfort with stylish accommodation areas and spacious entertaining spaces. Her interior is extremely inviting. Each cabin is decadently appointed with everything that you require for a week away from home.
There is a walk-in dressing room in the master & two VIP suites.
Water Sports&Tender:
Arimar 3.6 m Rib 135 HP inboard
SeaDoo 255 hp 2 Pax Waverunner
Water-skis
Snorkeling Equipment
Basic Fishing Equipment
Amenities and Toys:
4G Internet
Entertainment System
Jetski
Snorkeling Gears
Air Conditioning
Video of Yacht:
Weekly Charter Rates
General Specifications
Su
Mo
Tu
We
Th
Fr
Sa
Su
Mo
Tu
We
Th
Fr
Sa
Su
Mo
Tu
We
Th
Fr
Sa
Su
Mo
Tu
We
Th
Fr
Sa
Su
Mo
Tu
We
Th
Fr
Sa
Su
Mo
May

1

2

3

4

5

6

7

8

9

10

11

12

13

14

15

16

17

18

19

20

21

22

23

24

25

26

27

28

29

30

31

June

1

2

3

4

5

6

7

8

9

10

11

12

13

14

15

16

17

18

19

20

21

22

23

24

25

26

27

28

29

30

July

1

2

3

4

5

6

7

8

9

10

11

12

13

14

15

16

17

18

19

20

21

22

23

24

25

26

27

28

29

30

31

August

1

2

3

4

5

6

7

8

9

1010 days Confirmed

---

10.08.2023 16:00PM
till
20.08.2023 10:00AM

---

Bodrum, Turkey* to Bodrum, Turkey*

1110 days Confirmed

---

10.08.2023 16:00PM
till
20.08.2023 10:00AM

---

Bodrum, Turkey* to Bodrum, Turkey*

1210 days Confirmed

---

10.08.2023 16:00PM
till
20.08.2023 10:00AM

---

Bodrum, Turkey* to Bodrum, Turkey*

1310 days Confirmed

---

10.08.2023 16:00PM
till
20.08.2023 10:00AM

---

Bodrum, Turkey* to Bodrum, Turkey*

1410 days Confirmed

---

10.08.2023 16:00PM
till
20.08.2023 10:00AM

---

Bodrum, Turkey* to Bodrum, Turkey*

1510 days Confirmed

---

10.08.2023 16:00PM
till
20.08.2023 10:00AM

---

Bodrum, Turkey* to Bodrum, Turkey*

1610 days Confirmed

---

10.08.2023 16:00PM
till
20.08.2023 10:00AM

---

Bodrum, Turkey* to Bodrum, Turkey*

1710 days Confirmed

---

10.08.2023 16:00PM
till
20.08.2023 10:00AM

---

Bodrum, Turkey* to Bodrum, Turkey*

1810 days Confirmed

---

10.08.2023 16:00PM
till
20.08.2023 10:00AM

---

Bodrum, Turkey* to Bodrum, Turkey*

1910 days Confirmed

---

10.08.2023 16:00PM
till
20.08.2023 10:00AM

---

Bodrum, Turkey* to Bodrum, Turkey*

2010 days Confirmed

---

10.08.2023 16:00PM
till
20.08.2023 10:00AM

---

Bodrum, Turkey* to Bodrum, Turkey*

21

22

23

24

25

26

27

28

29

30

31

September

1

2

3

4

5

6

7

8

9

10

11

12

13

14

15

16

17

18

19

20

21

22

23

24

25

26

27

28

29

30

October

1

2

3

4

5

6

7

8

9

10

11

12

13

14

15

16

17

18

19

20

21

22

23

24

25

26

27

28

29

30

31