Lady Vera
Lady Vera
---
Experience Unparalleled Luxury with Lady Vera Motor Yacht Charter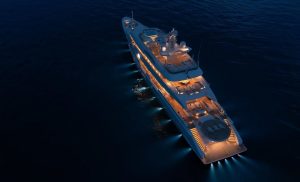 Step aboard the incredible Lady Vera yacht for charter charter , a 73.5-metre stunning motor yacht Offering a luxurious experience for up to 12 guests, Lady Vera yacht charter boasts 6 luxurious suites and elegant interiors  From the moment you step aboard, you are surrounded by luxury, including spacious social spaces and a panoramic restaurant.
Easy for families to accommodate, Yacht offers a child-friendly program and is equipped with wheelchair access to ensure all guests have a comfortable stay Facilities on board are unimapted, a dedicated library for relaxation and a well-equipped gym to maintain your fitness routine during cruise reception
Lady Vera Powered by two MTU engines, Lady Vera yacht charter cruises at a comfortable 15 knots, reaches a top speed of 17 knots, has a range of 3,800 nautical miles and an advanced stabilization system ensures exceptional comfort at anchor or underway.
But it's not just about wealth and comfort; Lady Vera offers a variety of water toys and activities for fun trips on the water. From jet skis and surfboards to scuba diving equipment, you'll find everything you need for endless fun.
Cruise the Mediterranean Sea and discover magical sights, food and experiences this summer with Yacht and her experienced crew at your service. Whether you are looking for relaxation or adventure, Yacht is the gateway to an unforgettable yacht charter experience.
Specifications:
Length Overall: 73.5 meters
Beam: 12.06 meters
Max Draught: 3.65 meters
Gross Tonnage: 1585
Performance & Capacities:
Max Speed: 17 knots
Cruising Speed: 15 knots
Fuel Capacity: 192,000 liters
Water Capacity: 43,600 liters
Engines:
Make: MTU
Total Power: 4720 hp
Materials:
Hull: Steel
Superstructure: Aluminium
Deck: Teak
Accommodation:
Guests: 12
Passenger Rooms: 6
Master Rooms: 1
Double Rooms: 5
Lady Vera is more than just a motor yacht; she is an exquisite haven of luxury and adventure, offering an unparalleled yacht charter experience. Book your charter now and sail the seas in style with Lady Vera.
Weekly Charter Rates
General Specifications
Length Over All
73,52 meters
Water Toys
Tender + Toys: 1 x Silver Bullet 20' Cris Craft 6.15m (270hp Volvo penta 5.0 GX) 1 x Novurania 12.70m Chase tender 2 x SEABOB 2 x Jet Ski 2 x Jet Ski Stand Up 1 x Fly Ride 2 x Jet Surf 1 x Flyboard 4 pairs Flyboard boots 1 x hose for the flyboard and flyride 1 x Hoverboard 1 x Hoverboard Step 3 x SUP 1 x Jet Pack 1 x Fly fish 1 x Banana 4 x Connelly interceptor (tubes) 2 x Jobe stream 3 (tubes) 3 x Waterski mono 1 x Double w aterski 2 x Wake board 1 x Junior training ski Scuba diving equipment full
Su
Mo
Tu
We
Th
Fr
Sa
Su
Mo
Tu
We
Th
Fr
Sa
Su
Mo
Tu
We
Th
Fr
Sa
Su
Mo
Tu
We
Th
Fr
Sa
Su
Mo
Tu
We
Th
Fr
Sa
Su
Mo
May

1

2

3

4

5

6

7

8

9

10

11

12

13

14

15

16

17

18

19

20

21

22

23

24

25

26

27

28

29

30

31

June

1

2

3

4

5

6

7

8

9

10

11

12

13

14

15

16

17

18

19

20

21

22

23

24

25

26

27

28

29

30

July

1

2

3

4

5

6

7

8

9

10

11

12

13

14

15

16

17

18

19

20

21

22

23

24

25

26

27

28

29

30

31

August

1

2

3

414 days Confirmed

---

04.08.2023 16:00PM
till
18.08.2023 10:00AM

---

Bodrum-Bodrum

514 days Confirmed

---

04.08.2023 16:00PM
till
18.08.2023 10:00AM

---

Bodrum-Bodrum

614 days Confirmed

---

04.08.2023 16:00PM
till
18.08.2023 10:00AM

---

Bodrum-Bodrum

714 days Confirmed

---

04.08.2023 16:00PM
till
18.08.2023 10:00AM

---

Bodrum-Bodrum

814 days Confirmed

---

04.08.2023 16:00PM
till
18.08.2023 10:00AM

---

Bodrum-Bodrum

914 days Confirmed

---

04.08.2023 16:00PM
till
18.08.2023 10:00AM

---

Bodrum-Bodrum

1014 days Confirmed

---

04.08.2023 16:00PM
till
18.08.2023 10:00AM

---

Bodrum-Bodrum

1114 days Confirmed

---

04.08.2023 16:00PM
till
18.08.2023 10:00AM

---

Bodrum-Bodrum

1214 days Confirmed

---

04.08.2023 16:00PM
till
18.08.2023 10:00AM

---

Bodrum-Bodrum

1314 days Confirmed

---

04.08.2023 16:00PM
till
18.08.2023 10:00AM

---

Bodrum-Bodrum

1414 days Confirmed

---

04.08.2023 16:00PM
till
18.08.2023 10:00AM

---

Bodrum-Bodrum

1514 days Confirmed

---

04.08.2023 16:00PM
till
18.08.2023 10:00AM

---

Bodrum-Bodrum

1614 days Confirmed

---

04.08.2023 16:00PM
till
18.08.2023 10:00AM

---

Bodrum-Bodrum

1714 days Confirmed

---

04.08.2023 16:00PM
till
18.08.2023 10:00AM

---

Bodrum-Bodrum

1814 days Confirmed

---

04.08.2023 16:00PM
till
18.08.2023 10:00AM

---

Bodrum-Bodrum

19

207 days Optioned

---

20.08.2023 16:00PM
till
27.08.2023 10:00AM

---

Bodrum

217 days Optioned

---

20.08.2023 16:00PM
till
27.08.2023 10:00AM

---

Bodrum

227 days Optioned

---

20.08.2023 16:00PM
till
27.08.2023 10:00AM

---

Bodrum

237 days Optioned

---

20.08.2023 16:00PM
till
27.08.2023 10:00AM

---

Bodrum

247 days Optioned

---

20.08.2023 16:00PM
till
27.08.2023 10:00AM

---

Bodrum

257 days Optioned

---

20.08.2023 16:00PM
till
27.08.2023 10:00AM

---

Bodrum

267 days Optioned

---

20.08.2023 16:00PM
till
27.08.2023 10:00AM

---

Bodrum

277 days Optioned

---

20.08.2023 16:00PM
till
27.08.2023 10:00AM

---

Bodrum

28

29

30

31

September

1

2

3

4

5

6

7

8

9

10

11

12

13

14

15

16

17

18

19

20

21

22

23

24

25

26

27

28

29

30

October

1

2

3

4

5

6

7

8

9

10

11

12

13

14

15

16

17

18

19

20

21

22

23

24

25

26

27

28

29

30

31