Heesen 50m
Heesen 50m
---
Experience Luxury and Innovation: The Heesen 50m Aluminium (Hybrid)  Yacht for Sale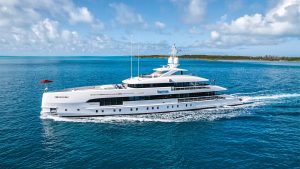 Imagine cruising the open waters on a yacht that blends luxury, fuel economy and state-of-the-art technology. The Heesen Aluminum (Hybrid) 50m Yacht offers just that, making it a truly unique yacht for sale that caters to those looking for a unique sailing experience.
Design and Dimensions: A Marvel on the Seas
The exterior of the Heesen Aluminum (Hybrid) 50m yacht is a testament to the expertise of Omega Architects. With a unique and sophisticated design, this boat is the perfect blend of style and function. The aluminum hull adds to the aesthetic appeal, not only making it lighter, but also providing fuel economy and impressive performance on the water
With a length of 49.80 meters (163 feet 4 inches) and a beam of 9.10 meters (29 feet 10 inches), this yacht gives you plenty of room for all your luxurious desires The half-load draft is 2.15 meters (7 feet 1 inches) , making the yacht It can sail well in shallow and deep water.
Accommodations Fit for Royalty
The Heesen Aluminum (Hybrid) 50m yacht is designed to offer guests the ultimate in comfort and luxury. With accommodations for 12 guests and 9 crew members, you and your loved ones can enjoy an unforgettable trip together.
The yacht features a full-beam owners stateroom, a full-beam VIP suite, two double guest cabins and two twin guest suites. Each cabin has been carefully designed to provide you with a comfortable and comfortable stay, ensuring that every moment on board is truly enjoyable.
A Symphony of Technical Details
Beyond the luxurious accommodation, the Heesen Aluminum (Hybrid) 50m yacht is an engineering marvel. Its hybrid propulsion system allows it to draw power from two sources: diesel engines and diesel electricity. This new approach offers a quieter and more vibrating experience with improved power consumption and enhanced performance.
With a top speed of 16.3 knots (diesel direct) or 9 knots (diesel electric) at half load, this boat offers versatility for every trip. Its impressive range of 3,750 nautical miles and 12 cables allows you to explore remote areas without worry.
Fuel Efficiency and Comfort Combined
One of the standout features of the Heesen 50m Aluminum (Hybrid)  Yacht is its commitment to fuel efficiency and comfort. The lightweight aluminum hull form enhances performance while maintaining luxury, all in a design package under 500GT. This ensures that you can generate wealth without compromising the environmental consciousness.
The design of the boat includes a striking deck and vertical hull, which gives it excellent aesthetics and aerodynamics. A wide aft platform with wide stairs leading to the deck provides a seamless connection between the boat and the water, creating opportunities for relaxation and water-based activities
Unmatched Silent Sailing: Embrace Tranquility
The Heesen Aluminum (Hybrid) 50m Yacht's hybrid propulsion system not only ensures fuel efficiency but also contributes to a quiet and peaceful sailing experience. Reduced noise and vibration means you can enjoy the tranquility of the open water without any problems, allowing for a truly enjoyable time as you explore the scenery
Your Dream Yacht Awaits: Discover the Heesen 50m Aluminium (Hybrid) Yacht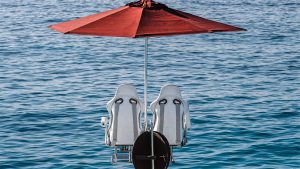 In conclusion, the heesen yachts for sale and heesen 50m yacht price, Heesen Aluminum (Hybrid) 50m boat represents the epitome of luxury and innovation in the boating world. From its impressive design to its remarkable combination and fuel efficiency, the ship provides an unparalleled sailing experience.
If you're looking for a boat with tall responsibility luxury and sophisticated technology, the Heesen 50m Aluminum (Hybrid) Yacht is perfect. Sail this unique vessel, embrace the beauty of the open sea and create unforgettable memories with your loved ones. Your dream boat is waiting – the Heesen Aluminum (Hybrid) 50m Yacht is ready to take you on an extraordinary journey across the water.
Asking Price
29.500.000 Euros
Yacht Availability
available
Length overall
49,8 meters
Machinery & Electronics
Main Engines
2 x MTU 12V 2000 M61
Power Generators
2 x Zenoro dual speed: 184 ekW @ 1,800 rpm / 159 ekW @ 1,500 rpm