Amels 55m
Amels 55m
---
Explore the Splendor of Amels 55m Yacht for Sale
If you are looking for luxury and high performance in sailing, the Amels 55m Yacht epitomizes the excellent. Built in 2019 by renowned Dutch architects, this 55m (180.4ft) motor yacht is a sight to behold. From Lloyd's classification to Tim Haywood and Laura Sessa's contemporary design, the ship exudes success and sophistication.
A Marvel of Design and Class
The Amels 55m yacht features a steel hull and aluminum superstructure, carefully constructed to Lloyd's classification standards. With a stunning Tim Haywood exterior and a beautiful Laura Sessa interior, the yacht belongs to the famous Amels 180 Limited Edition series. MCA has installed it, not surprisingly still a crowd-pleasing charter boat, allowing the current owner to pay racing fees.
Indulge in Unparalleled Amenities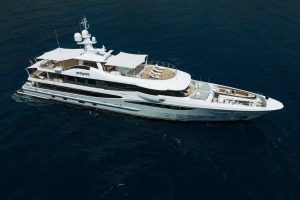 Step aboard the Amels 55m Yacht, and you'll be in for a world of luxury and adventure. The split sunroom offers a fully equipped bar, outdoor dining, teppanaki grill, and even a rotary TV under the hardtop The large back deck is perfect for sun lounging, working out or entertaining. Additionally, a raised Jacuzzi at the front invites up to eight guests to come and relax, and a sun deck presents a more relaxing space. In addition, there is a convenient airport touch-and-go for easy access.
In addition to the upper deck, another large entertainment area with al fresco dining and buffet bar is under the overhang. Moving forward, a Portuguese bridge leads to the right side through the tower's upper balcony, leading to a convenient storage area on the forward deck, complete with a crane on the roof for a safe launch
Ultimate Comfort and Elegance
At the back of the master bedroom, a spacious and inviting C-shaped sofa awaits with a sunroom party in the background. Steps on either side lead up to a generous swimming pool, with a beach club at sea for everyday residents. Large picture windows highlight the main salon, with a fully equipped bar, ideal for entertaining, and a formal dining area to the front. The folding arches at the port and starboard sides blur the distinction between interior and exterior, creating a simple, tasteful atmosphere.
Luxurious Accommodations for All
Amels 55m Yacht generously accommodates up to 10 guests in five fully appointed suites. The large full-beam master suite forward deck has a folding balcony, perfect for a private breakfast. The private bathroom has a bath and shower, together with its dressing room and private office. The ground floor has walk-in wardrobes and an en-suite bathroom with shower. In addition, there are two duplexes, both attached, one of which can be converted into two aisles.
Power and Efficiency Combined of Amels 180 For Sale
Powered by twin 1,308hp MTU diesel engines, the Amels 55m Yacht reaches a top speed of 14 knots, with a cruising speed of 13 knots. With 4,500 nautical miles across the Atlantic and helping to stabilize the wings, travel is smooth and easy.
Uncover the Treasure of Amels Yachts for Sale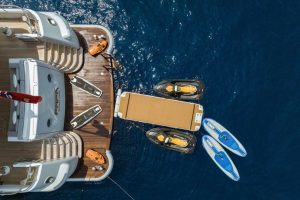 In conclusion, the Amels 55m yacht is an unbeatable treasure in the yachting world. Offering a blend of sophistication, comfort and performance, it promises unforgettable experiences on the open sea.
For a yacht with elegance, sophisticated design and impeccable craftsmanship, Amels 55m Yacht is the perfect choice. Embark on a luxurious and exhilarating journey on this unique cruise. Don't miss the opportunity to make this unique boat your own.
Key Features
Youngest Amels 55 on the market
Modern interior design
Good charter track record
Recently out of warranty works carried out in the shipyard
Folding balconies on main deck (port and starboard side)
Beach club at sea level
Owner's suite with office and private balcony
Stunning sun deck cinema
Large jacuzzi for up to eight guests on the sun deck
Asking Price
39.000.000 Euros
Yacht Availability
available
Machinery & Electronics
Main Engines
2 × 1,308hp MTU