Amels 180
Amels 180
---
Luxury Amels yachts for sale: Amels 180 – a model of luxury and adventure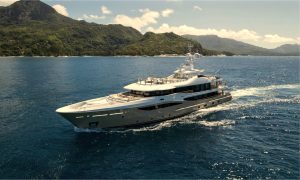 Imagine sailing the azure on the stunning Amels 180 Limited Edition superyacht, an unparalleled yacht that redefines luxury and sophistication. Built in 2017, this impressive yacht boasts an impressive LOA of 55.00 meters (180′ 5″) and can accommodate up to 12 esteemed guests, providing an unforgettable experience for all
A yacht designed for luxury
The interior of Amels 180 is serene and luxurious, curated by the talented Laura Sessa. A spa-like atmosphere welcomes guests, with touch curtains in subtle soft creams and silvers. The main deck salon features large windows and balconies on both sides, providing seamless connectivity for breathtaking views.
Luxury Sunshine Charter
The updated and spacious design of the Amels 180 model provides a luxurious sunshine charter like no other. The highlight of This is a sunroom with 4 meters in each current pool, open-air dining with the roof shaded, a large area for sunbathing and an outdoor cinema Every moment spent on this yacht is designed to be which will be an unforgettable experience.
Unmatched Comfort and Versatility
Boasting extensive interior design, Amels 180 offers six luxury suites where guests can stay in complete comfort. The main deck forward VIP stateroom has a fold-down balcony, providing a private relaxation area to enjoy the stunning views. Doubles and twins on the lower level, with additional Pullman docks, provide plenty of room for family and friends.
Adventure and Entertainment Aplenty
Equipped with an impressive array of toys and accessories, Amigos ensures that every moment on board is filled with adventure and fun. Explore the ocean with the Seadoo 230hp, GTR 230 Jet Skis or dive into an underwater wonderland with the Dive Rite Scuba Diving set. Jobe Vanity Wakeboards and Inflatable Tender-towables await thrill seekers. Those looking to relax will find comfort in the fully equipped gym, complete with Star Trac Treadmill, TRX Pro System, and more and amels 180 for sale.
Spectacular Design and Innovation
Designed by the esteemed Tim Heywood, Amigos flaunts sleek exterior lines and a unique "palace-tan" hull, ensuring it stands out in any port of call The spacious beach club with Hamman is perfect for relaxation, when the sun deck forward swimming pool It offers the perfect place to relax and enjoy the stunning view.amels 180 for sale for you.
Investing in unparalleled luxury
Buying Amigos not only represents a commitment to unparalleled luxury, but an investment in cherished travel and memories. With its sophisticated design, premium amenities and seamless blend of style and comfort, Amigos sets the stage for the ultimate cruising experience
Your Dream Awaits
Amels 180 for sale , a model of luxury and adventure, beckons you to embrace the world of unlimited luxury. As the sun sets in the sky, shining golden on the open sea, this magnificent yacht invites you on a unique adventure Surrounded by opulence and beauty, enjoy a you get to sail the world's most spectacular waters on an unparalleled scale. he is a sign to the sky; Amigos are waiting.
Asking Price
25.000.000 Euros
Yacht Availability
available
Machinery & Electronics
Main Engines
2 X MTU 1408HP