Adamaris
Adamaris
---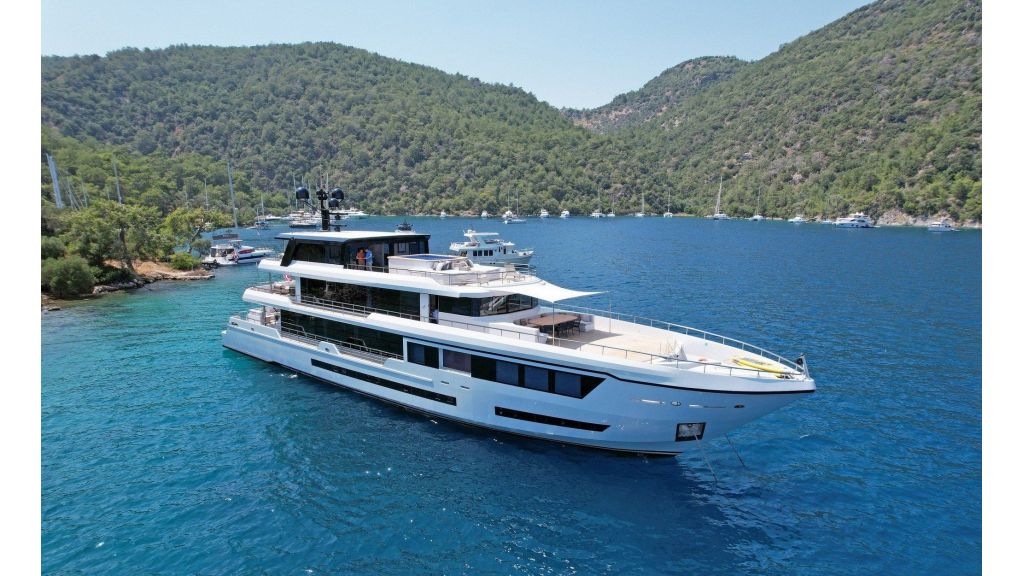 Adamaris is a 46 m opulently spacious and outstanding luxury motor yacht that can accommodate 12 guests in her 6 ultra-luxurious cabins. She offers an incredible superyacht charter experience.
Cabins are comprising 1 Master cabin, 1 VIP cabin, 3 doubles, and 1 twin. Also, she has a crew capacity of up to 7 people for a comfortable yacht charter experience and a hassle-free holiday.
She provides you with a wonderful, mesmerizing, and comfortable holiday opportunity with her large areas and floor-to-ceiling windows on each deck. Adamaris has an elegant feel emphasized by a warm colour palette and high quality finishes run throughout, creating light, bright and comfortable living areas. Her main salon is equally classy, capitalizing on natural light with massive open windows and sliding glass doors.
Contact us anytime for a charter Adamaris.
Onboard Systems:
Steam Room
Gym
3 x 4 Seawater Pool
Jacuzzi
Turkish Bath
480,000 BTU Marincold Chilled Water, Air Conditioning System
2 x Watermakers
Fire Fighting System
Entertainment:
Wi-Fi on the interior via external antennas
2 x Satellite TV
1 x 65" TV in the Main Salon
3 x 42" TV in the 3 guest cabins below
1 x 46" TV in the 1 guest VIP Cabin Below
1 x 55" TV in the Upper Guest Cabin
1 x 42" TV Crew Quarter
Tender:
Zodiac 6,80 with 150HP Yamaha Outboard
Zodiac 4,50 with 40HP Yamaha Outboard
Water Toys:
1x Water Ski (Adult)
1x Water Ski (Child)
1x Water Ski (Mono)
1x JetSki
1x Sea Bob
2x Paddle Board
1x Canoe
1x WaterSlide
1x WakeBoard
2x Ringo
Weekly Charter Rates
General Specifications
Water Toys
JetSki Sea Bob WaterSlide 2x Ringo 2x Paddle Board WakeBoard Water Ski (Adult) Water Ski (Child) Water Ski (Mono) Canoe
Su
Mo
Tu
We
Th
Fr
Sa
Su
Mo
Tu
We
Th
Fr
Sa
Su
Mo
Tu
We
Th
Fr
Sa
Su
Mo
Tu
We
Th
Fr
Sa
Su
Mo
Tu
We
Th
Fr
Sa
Su
Mo
May

1

2

3

4

5

6

7

8

9

10

11

12

13

14

15

16

17

18

19

20

21

22

23

24

25

26

27

28

29

30

31

June

1

2

3

4

5

6

7

8

9

10

11

12

13

14

15

16

17

18

19

20

21

22

23

24

25

26

27

28

29

30

July

1

2

3

4

514 days Confirmed

---

05.07.2023 16:00PM
till
19.07.2023 10:00AM

---

614 days Confirmed

---

05.07.2023 16:00PM
till
19.07.2023 10:00AM

---

714 days Confirmed

---

05.07.2023 16:00PM
till
19.07.2023 10:00AM

---

814 days Confirmed

---

05.07.2023 16:00PM
till
19.07.2023 10:00AM

---

914 days Confirmed

---

05.07.2023 16:00PM
till
19.07.2023 10:00AM

---

1014 days Confirmed

---

05.07.2023 16:00PM
till
19.07.2023 10:00AM

---

1114 days Confirmed

---

05.07.2023 16:00PM
till
19.07.2023 10:00AM

---

1214 days Confirmed

---

05.07.2023 16:00PM
till
19.07.2023 10:00AM

---

1314 days Confirmed

---

05.07.2023 16:00PM
till
19.07.2023 10:00AM

---

1414 days Confirmed

---

05.07.2023 16:00PM
till
19.07.2023 10:00AM

---

1514 days Confirmed

---

05.07.2023 16:00PM
till
19.07.2023 10:00AM

---

1614 days Confirmed

---

05.07.2023 16:00PM
till
19.07.2023 10:00AM

---

1714 days Confirmed

---

05.07.2023 16:00PM
till
19.07.2023 10:00AM

---

1814 days Confirmed

---

05.07.2023 16:00PM
till
19.07.2023 10:00AM

---

1914 days Confirmed

---

05.07.2023 16:00PM
till
19.07.2023 10:00AM

---

20

21

223 days Confirmed

---

22.07.2023 12:00PM
till
25.07.2023 12:00PM

---

233 days Confirmed

---

22.07.2023 12:00PM
till
25.07.2023 12:00PM

---

243 days Confirmed

---

22.07.2023 12:00PM
till
25.07.2023 12:00PM

---

253 days Confirmed

---

22.07.2023 12:00PM
till
25.07.2023 12:00PM

---

26

27

28

29

30

31

August

1

2

3

4

5

6

7

8

9

10

11

12

13

14

15

16

17

18

19

20

21

22

23

24

25

26

27

28

29

30

31

September

1

2

3

4

5

6

7

8

9

10

11

12

13

14

15

16

17

18

19

20

21

22

23

24

25

26

27

28

29

30

October

1

2

3

4

5

6

7

8

9

10

11

12

13

14

15

16

17

18

19

20

21

22

23

24

25

26

27

28

29

30

31